TILTON 600-Series 3-Pedal Floor Mount Assembly
Tilton's 600-Series 3-pedal floor mount assembly features traditional fixed-mount master cylinder and balance bar technology and provide excellent performance at competitive prices. Pedal assemblies are available in floor-mount, firewall-mount and overhung configurations.
Features:
Forged aluminum pedals with adjustable (vertical & horizontal) foot pads and anti-slip surfaces.

Adjustable pedal ratio (5.29:1, 5.44:1, 5.61:1, 5.75:1) enable the brake pedal to be tuned to driver preference without having to change master cylinder bore size.

Large diameter 7/16"-20 balance bar provides maximum rigidity. PTFE coated aluminum clevises for increased durability and reduced friction.

Pedal pivots feature wave washers to reduce lateral pedal movement and oil impregnated bronze bushings decrease stiction.

Lightweight aluminum frame features guide "ramps" to reduce balance bar tipping, decreasing friction and improving brake repeatability.

Adjustable clutch pedal stop prevents clutch over-stroking.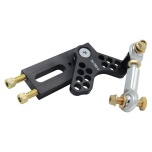 SKU:
72-791 ,
Qty:
0 ,
Delivery time:
week
195,00 €